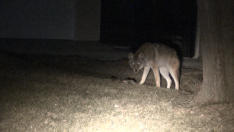 Media outlet
Chicago Tribune
An Aurora man walking back into his home after a late night smoke was startled when a large animal believed to be a coyote lunged at him, biting and scratching his arm, police said.
The 47-year-old man told police he was on the side of his house in the 1200 block of Cottonwood Drive when he encountered the "large animal" shortly before midnight on April 20, according to Aurora police spokesman Dan Ferrelli.
See link for full article.
Response
This article is interesting because the headline leaves the impression that a coyote is to blame, yet the investigation reported in the article gives no solid proof. This story was also covered by numerous other news outlets with a similar tone. 
It is a great example of how easy it is for the public to receive worrisome yet incorrect information. DNA testing of the animal's saliva from the attack later confirmed that this bite was not by a coyote but instead was made by a domestic dog. Domestic dogs, particularly those running in packs, remain historically to blame for all canid bites in Chicago-land; the central issue in this case was a human problem stemming from a lack of responsibility of domestic pets.