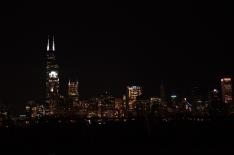 Media outlet
The New York Times
Welcome to the future of urban living. Predators are turning up in cities everywhere, and living among us mostly without incident. Big, scary predators, at that. Wolves now live next door to Rome's main airport, and around Hadrian's Villa, just outside the city. A mountain lion roams the Hollywood Hills and has his own Facebook page. Coyotes have turned all of Chicago into their territory. Great white sharks, attracted by booming seal populations, cruise Cape Cod beaches with renewed frequency. And in a kind of urban predator twofer, a photographer in Vero Beach, Fla., recently snapped a bobcat grabbing a shark out of the surf.
Response
Lead project research Dr. Stan Gehrt weighs in on the topic of urban wildlife. With so many wildlife species adapting to human dominated landscapes, this article discusses the very important question:  
Are humans equally capable of adapting?
Enjoy reading this article which highlights wildlife/human coexistence issues with cities like Mumbai being affected (though in different ways) just as cities like Chicago.