How wildlife biologists keep tabs on Chicago's most unlikely animal population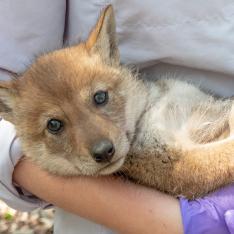 Media outlet
Chicago magazine
At a time of day when most Chicagoans are preparing for their morning commutes, Andy Burmesch is crawling headfirst into a hole. It's the size of a coffin and stinks like rotten meat, but Burmesch is undeterred. The field technician wriggles into the ground until only his boots are visible, and emerges triumphantly moments later. 
Response
Please remember these animals are wild and should only be handled by professionals for specific reasons. Although cute indeed, coyotes - like all wildlife - should be respected at any age. Do not approach or attempt to look into dens for coyotes; we apply data and use technical equipment to estimate den usage knowing that many other animals may use these same spaces. 
Did you know, coyotes don't generally use dens outside pupping season? Coyotes seem to prefer to rest in areas where they can apply all their senses quickly, which is not always possible in a den.