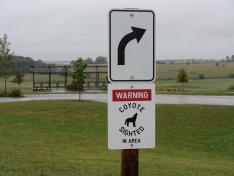 Media outlet
Chicago Tonight
Chicago's animal control department could soon be treating urban coyotes as beneficial predators instead of potentially dangerous pests.
Under a measure championed by Ald. Brian Hopkins (2nd Ward) and passed by the Health Committee on Monday, animal control workers will no longer attempt to trap or kill coyotes unless they present a threat.
Hopkins says the measure is to recognize that the presence of coyotes in the city, which researchers believe can be numbered in the thousands, is largely beneficial.