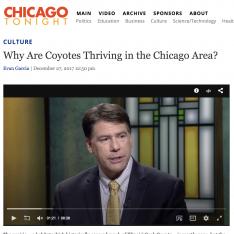 Media outlet
Chicago Tonight
The prairie – a habitat which historically covered much of Illinois' Cook County – is mostly gone, but the prairie wolf, or coyote, is another story.
There are about 4,000 coyotes roaming Cook County – that's a self-proclaimed "conservative guess" from Stanley Gehrt, a professor of wildlife ecology at Ohio State University who's been studying coyotes in the area for nearly two decades.
Gehrt joins "Chicago Tonight" to discuss his research and the coyote population within Chicago.