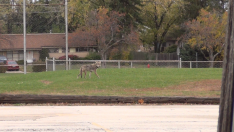 SPECIAL SEGMENT on ABC 7 NEWS Chicago with RON MAGERS
"With some recent and well publicized downtown sightings, we know coyotes are in the Chicago area. But you may not know that Cook County, Illinois is the home of the largest study ever done on urban coyotes. Chicago's coyotes are being closely watched. "It turns out that city life is good for coyotes," Dr. Stan Gehrt told ABC 7. "They are surviving quite well on natural foods in the city. Not on our garbage and not on our pets.
"Some coyote rules: Don't feed them. That means don't leave food for your pet outside unless you want your pet to meet a coyote. And, don't fear them. If you see one, walk away. They would prefer to be alone."
 
Read the article (link below) or watch the video.