MS, The Ohio State University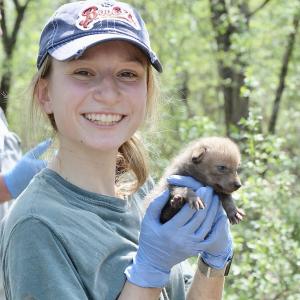 Ashlyn graduated from the University of Georgia in 2020 with a BSFR in Fisheries and Wildlife science. Before starting graduate school, she studied Passeriform diets and vector-borne pathogens, in addition to developing outreach materials with the non-profit organization, Georgia Wildlife Federation.
Ashlyn's research with the Urban Coyote Research Project focuses on long-term surveillance of Sarcoptic mange within the Chicago coyote population. Specifically, she is interested in investigating how specific covariates impact infestation risk among individuals. The goal of this project is to better understand the relationship between the host and parasite in a heavily urbanized landscape.